Roadmap to Becoming a Web Developer in 2019 (include front-end, back-end, React.js, Vue.js) – Developer Roadmaps

2

min read
Do you want to be a developer? There are many ways you can do it. But if you are a beginner and are trying to learn emotionally and without any consideration, it seems to be much harder to achieve. From the very beginning, in order to find a clear, specific and scientific direction, we need the advice of experts and these must be approved by many people. Here are the "developer roadmaps" of some experts including Front-end, Back-end, DevOps, React.js, and Vue.js.  The roadmaps will guide you if you are confused about what to learn next, rather than encouraging you to pick what is hip and trendy. But all are references, you can make your own choices. The authors are not responsible for how you will use these roadmaps.
[UPDATED 6/15/2019]
From 2018, I had been published an article about the front-end road map for absolute beginners. These road maps of some authors I posted here may not 100% optimized, but those are the smart moves ones. Which mean that many people bail on that and go forward to the next career. Front-end to the back-end, Vue.js to React.js, etc…All of them are welcome with the big thumb up from programming communities. And, still this article again, you already know that the technologies are changing every day, one day we do not get in touch with it that we can be left behind. So, with the core of these road-maps in 2018, but also I have been addressed new trends that compatible with 2019. These road-maps of some authors below have been updated:
Kamran Ahmed's Front-End Developer Roadmap in 2019
From here.

Kamran Ahmed's Back-End Developer Roadmap in 2019

Kamran Ahmed's DevOps Roadmap in 2019
DevOps is the practice of operations and development engineers participating together in the entire service lifecycle, from design through the development process to production support.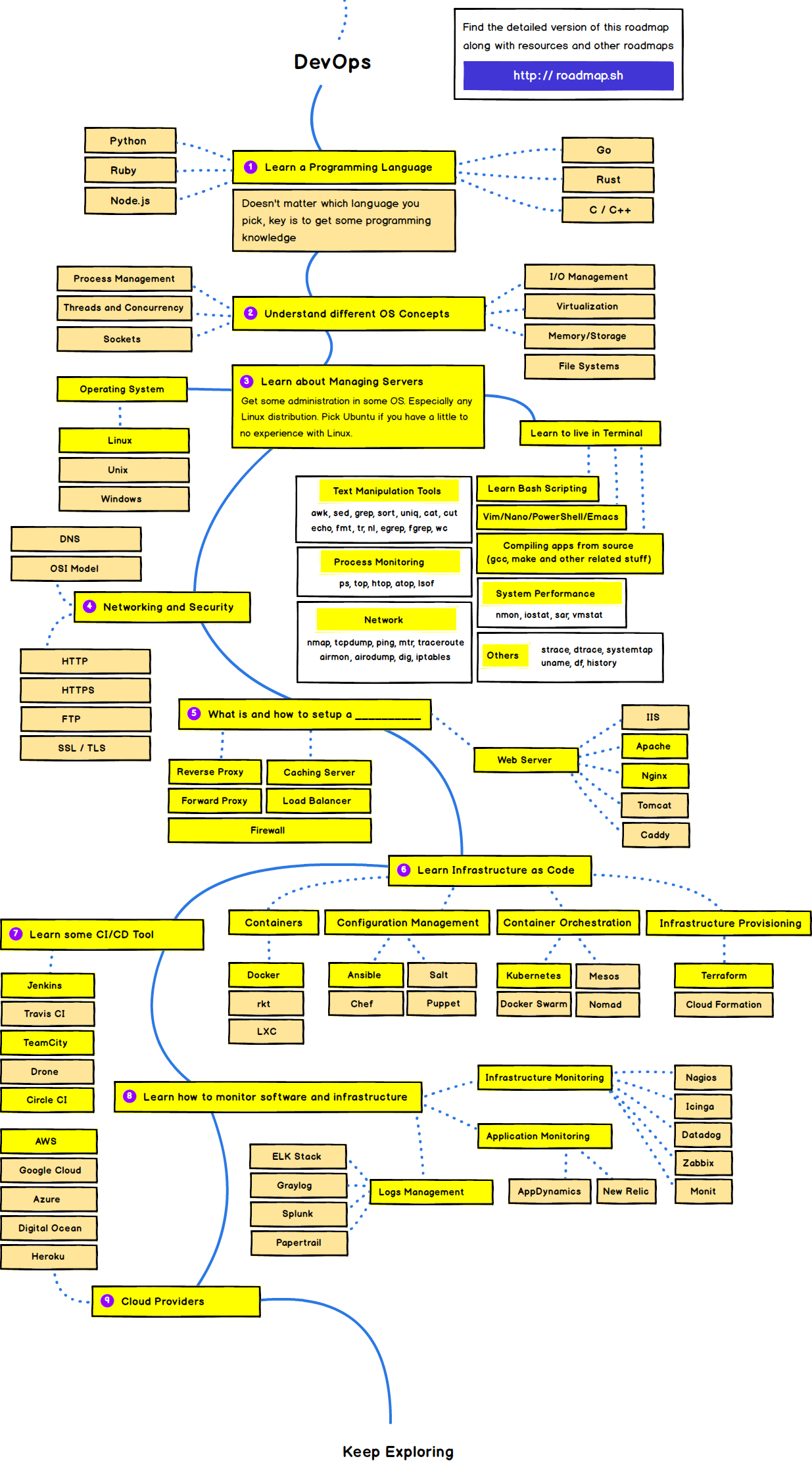 You can follow the author of these 3 roadmaps here.
Adam Golab's React Developer Roadmap in 2019
From here.

Flavio Copes's Roadmap to Become a Vue.js Developer 2019
From here.
Facebook Comments