Top 5 awesome websites that teach you coding for free!

5

min read
Nowadays, there are many websites that teach programming with many different forms, styles, programming languages, paid and free. If you are wondering what websites to look at, then this is article seems to fit you. Here I picked out 5 amazing websites to learn how to code including free and paid based on my personal views. If something went wrong, please tell me to fix it. Thanks.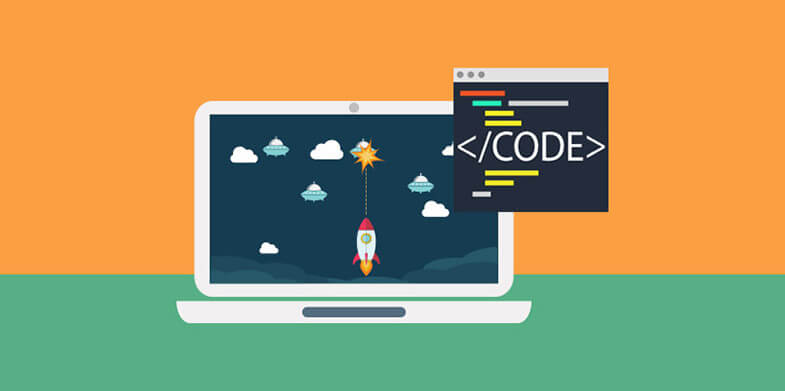 Why should you learn to code?
If you are a newcomer to the world of web development and coding, it makes the most sense to start by teaching yourself how to code so that you may discover what you do and don't like, before investing resources into courses for a particular coding language. Additionally, learning to code doesn't have to cost a fortune—some resources require low financial investment to absolutely nothing. The job market for coding specialists and web developers is only getting larger, and top companies around the world are looking for the best and brightest minds to fill these positions. When approached right, you may even find that you will not even have to pay a dime to learn how to code—depending on your learning path. It is a skill that will never be overlooked by potential employers and is valuable.
And here are 5 great sites that can help you learn to code
1. freeCodeCamp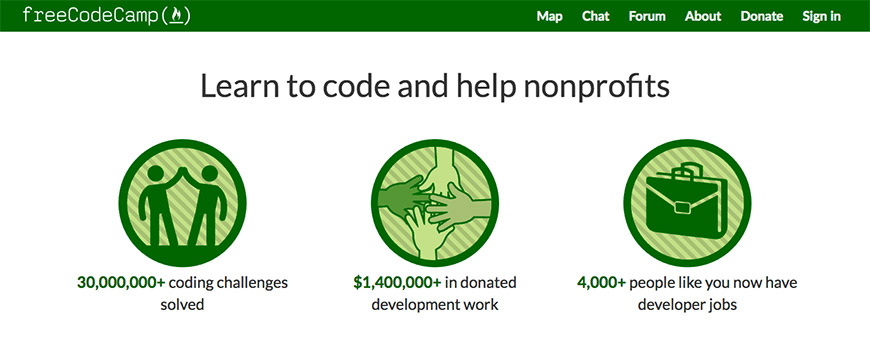 freeCodeCamp created by Quincy Larson is a non-profit organization that consists of an interactive learning web platform an online community forum, chat rooms, Ghost publications and local organizations that intend to make learning web development accessible to anyone. Beginning with tutorials that introduce students to HTML, CSS, and JavaScript, students progress to project assignments that they must complete either alone or in pairs. Upon completion of all project tasks, students are partnered with other nonprofits to build web applications, giving the students practical development experience.
freeCodeCamp
Formation
October 2014
San Francisco, California
Founder
Quincy Larson
Purpose
Education and nonprofit work

Region

Worldwide

Volunteers

659
Website
www.freecodecamp.org
If you are looking to become a front-end developer, this is a great option. With very scientifically designed sections and along with a lot of algorithms and projects. And finally, after a lot of time and effort, you will claim to front-end, back-end, visualization, and full-stack certifications. It's all free and worth it globally, you can put it on your CV, it's very valuable.
2. Codecademy

Codecademy is committed to giving the best learning experience through and through, making it one of the best places to learn how to code. Code Academy realizes that programming is not traditionally thought of when considering public school education, and this company has found a way to manipulate the way that education works, and brings the classroom online. Code Academy is constructing the education that the world needs for now and for the future by providing an engaging educational experience. Over 24 million individuals have used Code Academy to learn how to code on their own, as they provide courses on JavaScript, HTML and CSS, PHP, jQuery, Ruby, and Python. There are over 300 hours of online content available free to millions of individuals all over the globe. The courses that are available will be able to help any person, regardless of their skill level for coding, and their knowledge of computers.
3. edX
edX is a massive open online course (MOOC), provider. It hosts online university-level courses in a wide range of disciplines to a worldwide student body, including some courses at no charge. It also conducts research into learning based on how people use its platform. EdX is a nonprofit organization and runs on the free Open edX open-source software platform.
The Massachusetts Institute of Technology and Harvard University created edX in May 2012. More than 70 schools, nonprofit organizations, and corporations offer or plan to offer courses on the edX website. As of 29 December 2017, edX has around 14 million students taking more than 1,800 courses online.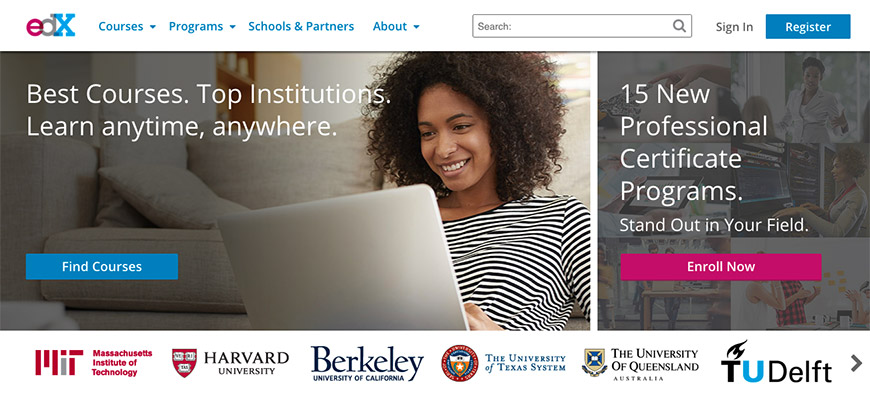 Students will be able to choose their courses from about 60 schools. Those who enroll in the courses are located all over the world and are focused on learning more about engineering, computer science, languages, writing, marketing, biology, and so much more. EdX is founded and governed by by universities and colleges. Open edX is the actual platform that is used for the edX courses and is available for free. Technologists and educators are able to build tools for learning and contributing new features for the platform, and to create groundbreaking solutions that will benefit students across the globe.
4. Udemy
Udemy is an online learning platform. It is aimed at professional adults. Unlike academic MOOC programs are driven by traditional collegiate coursework, Udemy uses content from online content creators to sell for profit. Udemy provides tools which enable users to create a course, promote it and earn money from student tuition charges.
It is a global marketplace for teaching and learning online, where students will master new skills and achieve their goals through choosing from a library of more than 45,000 courses that are taught by instructors that are experts in their field. There is an abundance of courses available for coding that range from free to over $200, but there are enough free courses that someone who has no idea what they are doing can find the one that they like, and start from there. Students will be able to see what the courses are rated on a 5-star system, and they will be able to see what other students have to say about the course.
5. Coursera
Coursera is a venture-backed, education-focused technology company founded by Stanford professors Andrew Ng and Daphne Koller that offers online courses and is based in Mountain View, CA. Coursera works with universities and other organizations to offer online courses, specializations, and degrees in a variety of subjects, such as engineering, humanities, medicine, biology, social sciences, mathematics, business, computer science, digital marketing, data science, and others. As of October 2017, Coursera had more than 28 million registered users and more than 2,000 courses.

Courses are available in English, Spanish, and French, and can be subtitled in English, Spanish. There are courses available in business, data science, and computer science. Every course available is taught by the world's best educational institutions and are made up of video lectures, community discussion forums, and peer-reviewed assignments. Those who complete their course will receive an electronic course certificate. The courses run from 4 to 6 weeks, and are normally priced from about $29 to $99, and are not only online, but available to everyone that has access to a computer.
Every support is much appreciated ❤️